Book too large!
"Book too large!" is an error message that appears when attempting to use .dupe on a Paper server.
This error message appears because the glitch behind .dupe cannot be used on Paper servers. .dupe must be used on non-Paper servers only.
How to fix
.dupe is permanently patched on Paper servers. The only fix is to use .dupe on a server that doesn't run Paper.
Press F3 to open the debug screen.

Check the type of server in the top left corner.

Realize you are connected to a "Paper" server, which will never support .dupe.

Leave the server.

Duplicate items without any problems.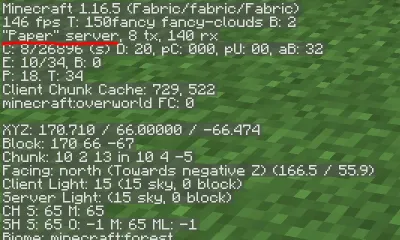 book_too_large.txt · Last modified: 2023/02/26 17:44 by alexander01998
---