Table of Contents
ColorSetting
ColorSetting is a type of setting for managing colors, complete with color pickers and support for hex codes.
ColorSetting was originally created by hiddenalt-team1) in Wurst7:455.
Features using ColorSetting
A list of all features that currently use ColorSetting.
Media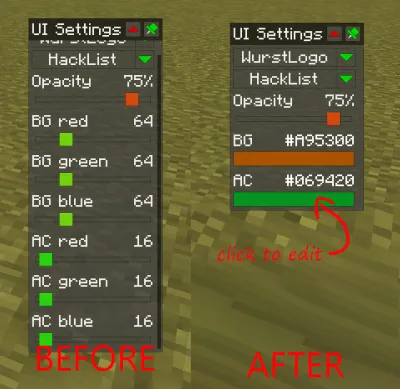 The initial implementation of ColorSetting, as created by hiddenalt-team2) in Wurst7:455.
Changes
| Version | Changes |
| --- | --- |
| Wurst 7.17 | Added ColorSetting.(Thanks to hiddenalt-team3)!) |
colorsetting.txt · Last modified: 2023/02/04 17:11 by alexander01998
---